Places to Visit

Our local attractions!
Foynes Inn is an ideal base for touring around the South-west & Mid-West of Ireland.
Whilst staying in Foynes there are many local Tourist attractions to visit.
KnockPatrick Gardens: approximately 1.5kms from the village
KnockPatrick Gardens
(approx. 3.5km)
Approximately 1.5kms from the village. This county Limerick garden is almost 100 years old and is open to visitors. Knockpatrick Gardens is one of many Irish gardens open to the public in the Mid-West of Ireland. This award winning three-acre garden enjoys a spectacular location overlooking the scenic Shannon Estuary.
Contact: 069-65256
www.myinfo.ie/Knockpatrick-Gardens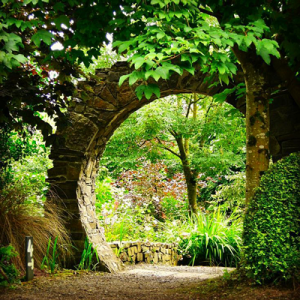 Foynes Yacht Club
(within walking distance of the village)
Foynes Yacht Club is a sailing club based on the Shannon Estuary. Foynes Yacht Club was founded in 1962, it has a modern club house with excellent facilities and floating pontoons and deep water moorings.
www.foynesyachtclub.com
Boyce's Gardens
(approx. 8km)
These one-acre prize winning Gardens are situated off the N69 road overlooking the tranquil beauty of the River Shannon. The gardens have been developed over a period of twenty years by the Boyce Family. Designed for year round colour the gardens are divided into a number of informal rooms which provide a micro climate for the many colourful & tender plants that grow here.
FLYING BOAT MUSEUM
(within walking distance of the village)
The only aviation museum in Ireland and the only dedicated flying boat museum in the world, this unique attraction preserves the rich history of aviation and the development of passenger travel.
www.flyingboatmuseum.com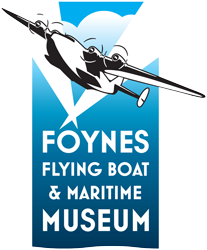 The Wild Atlantic Way
The Wild Atlantic way, 1600 miles in length, is one of the longest defined coastal routes in the world. It winds its way all along with Irish west coast from Inishowen peninsula in the north down to the south to the picturesque town of Kinsale. The route from start to finish unfolds the wonders of nature, the power of the ocean and its imprints on the west coast of Ireland, Enchanting Villages are nestled along our coast with viewing points at various locations.
Foynes Island Viewpoint is one of the discovery points along the Wild Atlantic Way. See www.wildatlanticway.com
NOTE: A car ferry crosses the Shannon Estuary between Tarbert (Co. Kerry) and Killimer (Co. Clare) year-round. For timetables and to purchase tickets, visit the official website www.shannonferries.com we have a resident pod of dolphins that have made the Shannon estuary their home for further information please visit  www.dolphinwatch.ie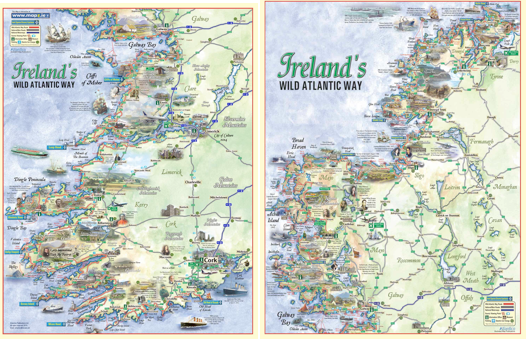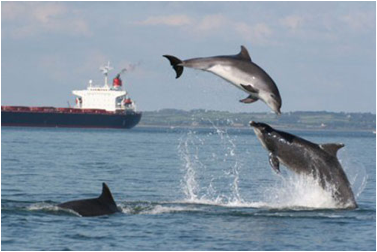 The Burren
(approx. 82km from Foynes Inn using Car Ferry at Tarbert Co . Kerry)
The Burren is located along the west coast of Ireland, encompassing the North of County Clare and the South east of county Galway. The Burren is defined by the presence of exposed limestone it is an excellent example of glaciated karst landscape displaying all the classical karst features such as bare pavements, cave systems, turloughs, dry valleys, sinkholes. Ecologically it is very rich containing over 70% of Irelands native flora, including unusual combinations of artic, alpine & Mediterranean species. The Burren has its own national park see www.burrennationalpark.ie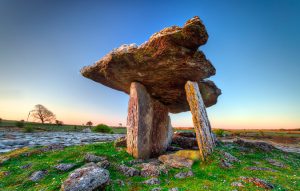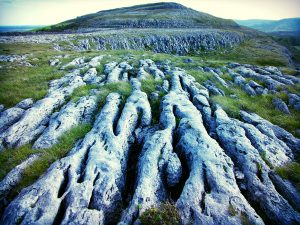 The Aillwee Cave, Ballyvaughan
(approx. 107km from Foynes Inn using car Ferry at Tarbert)
This cave was discovered by Jack McCann a local farmer in 1944, the 1000 feet long cave is one of the oldest of the Burren Caves having formed millions of year ago. Guided tours are available and during these tours you can observe beautifully caverns, bridged chasm, underground waterfalls, weird mineral formations and the hibernation chambers of brown bears which have been extinct in Ireland for centuries. For further information, please see www.aillweecave.ie

The Cliffs of Moher
(approx. 80km from Foynes Inn using car ferry at Tarbert Co. Kerry)
The Cliffs of Moher are Irelands most visited natural attraction with a magical vista that captures the hearts of up to one million visitors each year. Standing 702 feet at their highest point they stretch for 8km along the Atlantic Coast of County Clare. For further information, please see www.cliffsofmoher.ie

LOOP HEAD LIGHTHOUSE
(approx. 75km from Foynes Inn using car ferry at Tarbert Co. Kerry)
Loop Head is a slender finger of land pointing out to sea from the most westerly point of County Clare, on Ireland's Atlantic coast. Loop Head epitomises what the Wild Atlantic Way is about: panoramic cliff views, abundant local seafood, your choice of aquatic activities and plenty of quiet beauty spots where you can pause and wonder at this unforgettable part of the world. There has been a lighthouse at Loop Head since 1670 but the present tower, which stands 23 metres high, was built in 1854. For further information, please see www.loophead.ie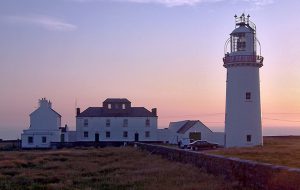 BUNRATTY CASTLE & FOLK PARK
(approx. 53km from Foynes)
Originally built in 1277 by Thomas de Clare, Bunratty Castle is the most complete and authentic medieval castle in Ireland and boasts one of the finest collections of 14th-17th century material in these islands. The castle and its contents are now held in trust for the nation. Bunratty Folk Park features a complete reconstruction of a 19th century village street, including craft shops, general stores and a post office. The castle and Folk Park are open to visitors daily during the year and you can visit the official website www.shannonheritage.com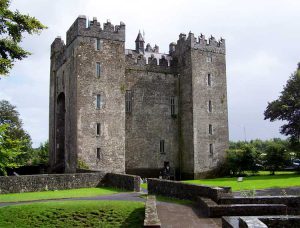 KING JOHN'S CASTLE
(approx. 39km from Foynes)
Visitors of all ages will find something to inspire and excite them at the brand new visitor experience at King John's Castle in Limerick City. Enjoy the sights and sounds of medieval Limerick and let touch screen technology connect you to tales of siege and warfare. To find out opening times and book tickets, visit the official website www.shannonheritage.com/KingJohnsCastle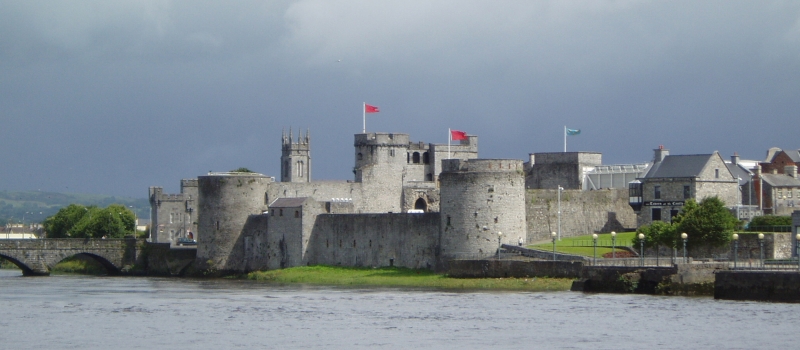 KILLARNEY
(approx. 87km from Foynes)
From the middle of the 19th century and the visit of Queen Victoria, Killarney has become the mecca of Irish Tourism. Poets and painters, writers and songsters, have never really fully described the varied beauty of the perfect blend of mountain and island-studded lakes, shores and glens. 'Beauty's Home' is an apt description. Read more about this must-visit town in the heart of Kerry see website www.killarney.ie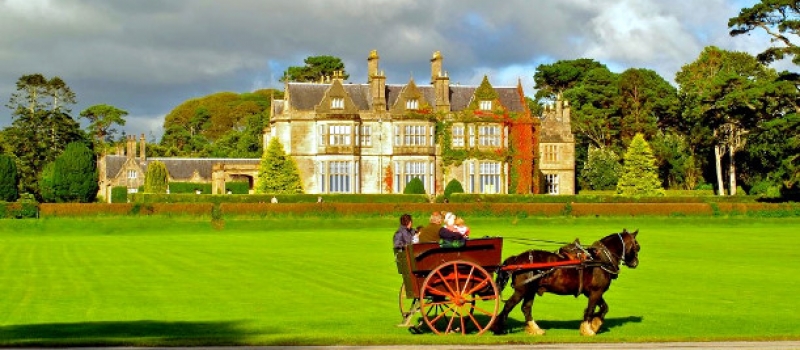 THE RING OF KERRY
As part of the Wild Atlantic Way, the Ring of Kerry (or Iveragh Peninsula to give it its correct name) is the Kerry tourist trail – the mystical & unspoilt region of Ireland that has attracted visitors for hundreds of years. Its spectacular beauty is beyond question and it is a natural centre for outdoor pursuits that include golf, water-sports, cycling, walking, running, riding and the very best fishing in freshwater rivers for salmon & trout and at sea for bass, ray, Pollack, conger eel, cod, flounder, wrasse, mullet, mackerel and tuna.
The Ring of Kerry has some of the Europe's finest beaches (See Rossbeigh in the Ross-Maine area) that provide all the facilities for a traditional seaside holiday. Above all, the Ring of Kerry provides an amazing insight into the ancient heritage of Ireland – see the Iron Age Forts & Ogham Stones, Old Monasteries and a landscape carved out of rock by the last Ice Age 10,000 years ago. For further information, please see www.ringofkerrytourism.com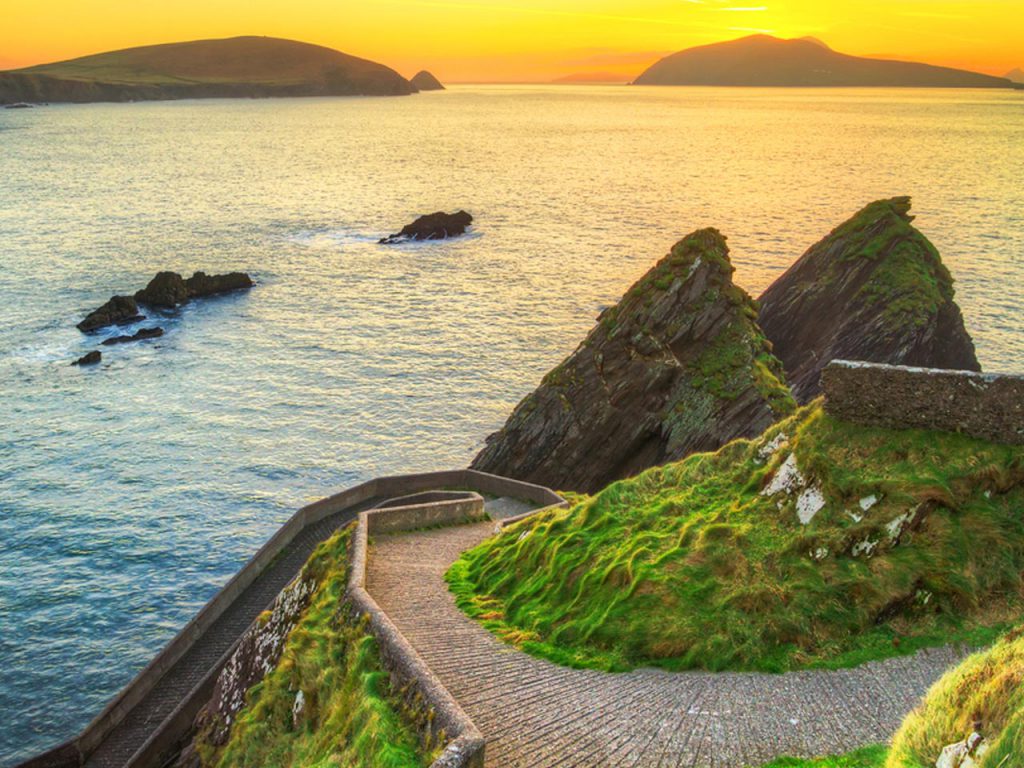 DINGLE PENINSULA
(approx. 117km from Foynes)
The northernmost of Kerry's two great peninsulas, it is also the westernmost place in Europe. It is amazingly diverse as to geography and character. See www.dingle-peninsula.ie